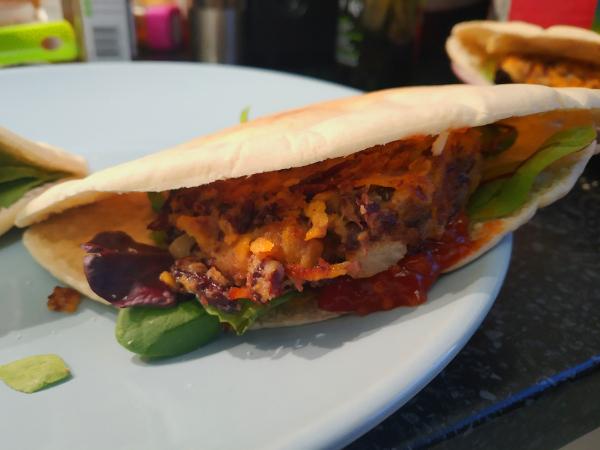 I've been experimenting with making meals without meat in them, the idea being that we could (once or twice a week) potentially have a meatless meal - bringing food costs down, as well as introducing a bit more nutrition variety.
This is a slightly amended version of Jack Monroe's "Carrot, Cumin & Kidney Bean Burgers". In the original recipe, the Cumin does most of the flavouring work, and we just felt like it was missing something...
In the photo, they're served in a pitta bread with tomato chutney and mixed leaf salad - Also had wedges on the side.
Cooking Time
Categories
Ingredients
1 small onion
1 large carrot
1 tin kidney beans (400g undrained)
t tsp ground black pepper
1 tsp ground cumin
1 tsp flour (heaped. Will also need some for your hands later)
cooking oil
Method
Peel the onion and chop is finely
Wash and peel the carrot and then grate it (use the side with large holes on the grater)
Empty the kidney beans into a colander
Hold them under a running tap to rinse them thoroughly
Empty into a saucepan and then cover with cold water
Turn on the hob to start bringing the kidney beans to a boil
Put the onion, carrot, cumin and black pepper into a frying pan
Add a splash (about 1tsp) of oil to them
Mix around so that the onion and carrot gets well coated in oily cumin and pepper
Turn the hob onto an extremely low heat to start softening them
Once the kidney beans' pan starts to boil, set a timer so the beans are boiled for 10 mins
Stir the carrot and onion to make sure it doesn't get burnt
Once the beans have boiled for 10 mins, empty them into the colander and drain well
Stir them into the onion and carrots then remove from the heat
Empty into a large bowl or saucepan
Use a potato masher to mash the mixture until you get a mash-like consistency (is quite hard work compared to potatoes)
Add the flour and use the masher to mix it in well to thicken the mixture slightly
Ideally, put into the fridge for a couple of hours before cooking
Put some oil into the frying pan and bring up to a medium heat
Apply some flour to your hands
Take a quarter of the bean mixture and roll it into a ball, before placing carefully to one side
Repeat 3 times so that you have 4 balls between the full mixture
Place a ball into the oil and then use a fork to gently push the ball down into a burger shape - don't use the spatula for this!
If there's room in the pan, repeat with the others
Cook for a few minutes on the first side
With spatula and fork, carefully flip each of the burgers (they're very fragile)
Cook for a few minutes on the second side,
Continue to flip and cook as needed until they're cooked through and beginning to crisp on both side
Remove from the pan and serve immediately
Based On
Keywords
Burger
,
Vegetarian
,
Vegan
,
Vegetables
,